Master of the Minimal Sculpture in Korea Sculptural Poet,
Park Suk Won
"'Weaving,' Birth of new sculpture language"
About the Author
Park Suk Won stood out as a promising sculptor in the artistic community in his early days. He won the Speaker of the National Assembly Award in the National Art Exhibition for two consecutive years in 1968 and 1969, and also received the President of the National Academy of Arts Award in 1974. He had previously won a special award in 1962 and 1965. In 1972 when he reached 30 years of age, he emerged as one of the recommended artists in the National Art Exhibition, which was the greatest honor for artists at the time. Scorched Earth," which earned him the Speaker of the National Assembly Award in the National Art Exhibition in 1968, was critically acclaimed as "the most iconic Informel or Expressionist abstract sculptural work in Korea and a milestone in the modern Korean sculpture." Around this time, he also participated in distinguished international exhibitions around the world, including the Paris Biennale (1967), the Sao Paulo Biennale (1969), and the Sydney Biennale (1973).

Sculptures
Park Suk Won emphasizes the "subtle scene" and "internal transition" of objects. "Internal transition" means that one should not regard the qualities of objects as the target of observation but instead should take a contemplative view on them. In other words, one should perceive objects sensuously and intuitively through a subjective response. Although no color or pattern is added to his works, they are fascinating because they contain "highly sensitive shaping" projected onto them and reveal the subtle qualities of objects with "tentacles of a delicate sense." He carves out contrivance or unnaturalness and leads his works in a comfortable and calm manner, thereby allowing smoothness in tranquility, stability in comfort, and internal order in simplicity. As seen from the rugged surfaces, wrinkles, and empty holes in his recent works, his sculptures amplify the presence of objects and pursue integration with them as if his pieces were trying to help the nature regain its true colors.
Scorched Earth

130×130×50㎝
iron
1967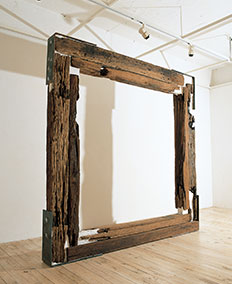 Accumulation of Meanings
9317

250x250x30cm
Rail tie, plaster,iron
1992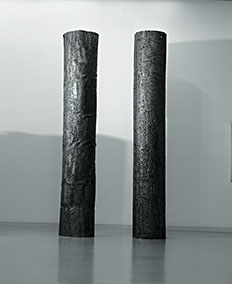 Accumulation of Meanings 051005

240x40x40cm
iron
2004
[Source: Changwon Moonshin Museum of Art, Park Suk Won]